Written by LENA AHAD | 14 March 2017
London: Tikit, part of the BT Group has announced a new business win with NetDocuments. Al Bawardi Critchlow, a London-based commercial law firm with a particular focus on high value and cross-border disputes resolution, has selected NetDocuments' native cloud-based document management system (DMS) supplied by Tikit.
Written by NICK BIRD AND BEAU BASS | 14 March 2017
Disaster recovery service provider Databarracks has announced the sponsorship of Lia Ditton's attempt to be the first woman to successfully row the North Pacific Ocean.
Written by The Editorial Team | 13 March 2017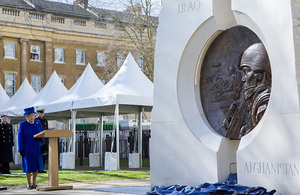 HM The Queen unveils The Iraq And Afghanistan Memorial. Crown Copyright.

Last week, Her Majesty The Queen, accompanied by His Royal Highness The Duke of Edinburgh, unveiled the Iraq and Afghanistan Memorial in Victoria Embankment Gardens, Westminster, London.