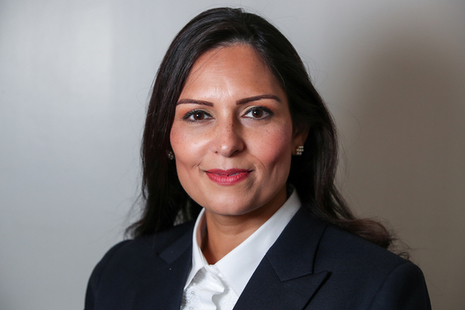 RT Hon Priti Patel MP, Secretary of State, Home Department
February 2020, and in Heathrow's terminal 3 arrivals hall, UK Border Force officers were noticing a distinct change in passenger behaviour in respect of those arriving from the Far East.
There has always been a predilection for a minority of tourists from those countries to wear masks partially to guard against pollution but this was unprecedented as tens of thousands arrived sporting face coverings.
UKBF officers had, like many of the UK population, become fully aware of the situation in Wuhan and this, with the appearance of the masked legions, caused considerable unease.
By March, the speed by which the disease could be transmitted, was very much in the public domain. Italy and Spain were struggling with the virus as disturbing TV news reports clearly showed yet, in addition to the Chinese, tens of thousands of passengers from these affected countries poured through the controls at our airports.
The response at those airports was to post a few notices asking those who felt unwell to report the fact. UK Border Force officers made clear their concerns to local managers and to those at the Home Office.
Closing UK borders to arrivals and nationalities from certain countries was rejected on various grounds, including the damage that would be caused economically plus the fact that the experts stated that such action would make little difference as the disease was already in the UK.
Despite the situation in Spain, 3000 Atletico Madrid supporters were able to travel to Liverpool for a Champions League encounter despite the fact that they would not have been allowed to enter their own club's stadium in Madrid due to Lockdown restrictions.
Concerns
Subsequent criticism by the Home Affairs Select Committee of the failure to introduce controls back in the Spring, was damning. The Home Office responded thus:
"Keeping borders open helped businesses maintain international connections, boosted the economy and meant people could still travel for essential reasons."
It would appear however, that the concerns by Border Force officers and others hadn't fallen on deaf ears. It has recently been revealed that Home Secretary Priti Patel had, back in March, been advocating tougher border restrictions which had been rejected by Boris Johnson.
His reluctance may well have been bolstered by 'the science' which, as stated above, was of the belief that restrictions would make little difference to the rate of infection.
That of course begs a crucial question; if increased controls made little difference when millions were entering the country (in July alone 1.2 million passengers arrived at UK airports) and given that Covid was known to be highly transmissible then, why will it now make a difference when the passenger flow is currently a trickle albeit with the increased transmissibility of new variants?
As has been pointed out, from February onwards, millions of passengers arrived at UK airports and dispersed on the train, underground and bus systems. We will never know how many were infected with the virus and how many deaths resulted. Is the science really telling us that earlier, sterner controls would have made little difference?
We will also probably never discover whether vested interests, be they airport authorities, airlines and other business interests put pressure on the government to 'keep things moving.'
Not a happy one.
If a police officer's lot has not been a happy one during the pandemic, neither has the lot of the front-line border force officer. Morale was already dented over recent years by a succession of miserly pay awards which continued even after increases for other public workers reflected (to some extent) the end of austerity. This year they have been told there will be both no pay award and, to add insult to injury, cuts in shift pay.
The merger of immigration and customs into the UK Border Agency and then the UK Border Force, saw agreements in respect of officers remaining on existing contracts. Pressure on officers, during the pandemic, to accept new contracts was hardly designed to be a morale booster.
At the time of writing UK Border Force officers have voted to strike over a Home Office ban in respect of officers swapping shifts with each other. Shift swapping provides officers with a degree of flexibility in terms of both family and social life.
Given the laxity that the Home Officer approached 'officer safety' over previous months, the notion that keeping officers in some sort of team bubble is a safety measure, is regarded with scorn by demoralised officers, given the nature of their work.
UKBF staff surveys provide an interesting snapshot into the attitude of border force officers. Many will not bother with the form-filling as they believe the survey is a waste of time while others don't trust the anonymity. The results show that immediate line managers are held in high regard but that there is little confidence in senior UKBF and Home Office officials.
Take off that mask
Bitterness still exists in respect of the wearing of masks as passengers from seriously affected countries, poured through the controls back in March. UKBF officers on the controls were forbidden from wearing masks. Whilst officers understood issues around shortages of PPE equipment, they were even forbidden from wearing their own face covering. It was apparently bad for the Britain 'is open for business image.'
If, however, the passenger informed the officer that he/she was unwell or was coughing, the officer could then fetch a mask to wear.
Unusually, an anonymous UKBF officer voiced his anger at the Home Office during an ITV news bulletin back in April. He bemoaned the lack of action in terms of monitoring arriving passengers and expressed his concern in respect of officers being ordered not to wear masks whilst performing duty at the controls.
Some weeks later, perspex screens, already visible in many supermarkets, were installed.
Heathrow Criticisms
It's not surprising that given the international nature of Covid, Heathrow was to come under close scrutiny from early 2020. In fact, passengers arriving expressed surprise via social media that there was little visible evidence of measures linked to Covid. There were some notices suggesting that any passenger feeling ill should report the fact.
The airport authorities did close two terminals thus consolidating reduced numbers of passengers in Terminal 2 and Terminal 5. Even with the introduction of locator forms, automated eGates remained open thus passengers from the EU plus recently selected passengers from 'favoured' countries could pass through without UK Border Force officers checking their 'paperwork.'
Automated eGates have only recently been closed thus, despite the lack of flights this has resulted in passenger queues and complaints in respect of the lack of social distancing. However, the closure of eGates at least means that, in addition to passports, locator forms and Covid test certificates can be individually examined. UKBF officers state that 15 minutes would normally be the time taken to process a passenger without the correct paperwork who was being fined.
This has led to UK Border Force officers being abused and jeered at by those in queues which have resulted from the suspension of eGates. Most of the abuse has come from British nationals.
The UK Government's website makes no mention of eGates being closed.
Other complaints on social media revolved around lack of information, empty sanitiser stations plus no social distancing.
The current situation (subject to change!!)  
So now, after recent government edicts, we have a 'red list' of countries and a proposed hotel quarantine system for arriving passengers returning to the UK from those countries. In addition to returning residents, those in possession of spouse, work and student visas will also be permitted to enter.
Elsewhere, such quarantine procedures appear to have implemented with little difficulty. This seems to have caused problems in the UK with a commencement date of the 15th of February having just been announced.
However, we are still seeing persons arriving from Los Angeles, Karachi and Lagos, to name but three, despite these cities having experienced recent surges in Covid cases. As shown on ITV news, in spite of the ban, persons are still arriving from South Africa via Doha. Most passengers will disperse from the airport on public transport yet others will still be met by relatives.
In addition, checks were promised in respect of those persons leaving the UK without good reason. Thus far, UKBF officers have not been deployed to check on departing passengers, perhaps because of the numbers who are sick or self-isolating.
Sympathy for decision makers??
It's hard not to have some sympathy for a government dealing with the biggest national crisis since WW2; a crisis which bears an uncanny resemblance to a science fiction disaster movie. Mistakes have been made yet there have also been some notable successes.
The government has had to face mutinous rumblings from within its own ranks which have somewhat abated since the second wave and the effect of variant strains. The Daily Mail tied itself up in more knots than would have been tied by one of Nelson's midshipman as it published graphs, tables and articles by selected experts which suggested that the government strategy was over the top and the Covid issue exaggerated.
It now seems to have felt compelled to move back in the direction of the government's embrace with praise for the vaccines and their rollout and of course Sir Tom.
I suspect however, that whenever the big, expensive enquiry comes (headed by a retired judge with numerous barristers representing numerous interests each earning a fortune) the government's chaotic borders policy will be criticised.
However, the enquiry's results and recommendations will, in the distant future, dominate the media for perhaps two days. Hopefully though, lessons have already been learnt should we face another pandemic which has the current Covid 'forest fire' levels of transmission but is as deadly across all age ranges as was ebola.
One fact is certain; should that day come, we need to have a coherent border strategy which can be speedily and successfully activated.