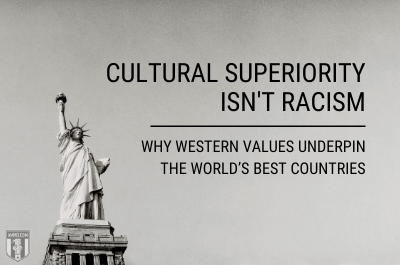 Elements of the left and their allies in the media are constantly driving this point home: White people are bad and so is the culture that they have created. Everything we value as a society is bad and, more than that, little more than an ex post facto justification for the subjugation of non-whites. Western culture is white culture, and all things white are bad.
But as with everything else which these elements of the left and their allies in the media push, this is simply false. While the overlap between white people – that is, people of European descent and some Christian populations in the Caucasus – and Western culture is undeniable, it is likewise undeniable that Western culture is no longer the exclusive domain of whites. What we can call, without the slightest bit of stretching the truth, Western culture is present not just in Western Europe, North America and Australia, but also in former British colonies such as Israel, Singapore and Hong Kong.
SAM JACOBS

Posted On
The contents of the recent Independent Office for Police Conduct (IOPC) into the Metropolitan Police's tactic of stop and search was as predictable as night following day. 
When the IOPC announced it would be mounting some sort of review into stop and search, I naively thought it would at least be a structured investigation which would be looking closely at all the issues namely; police powers, the current level of violence on London's streets, gang related violence and rivalries, drill music and youth culture, drugs crime, stop and search statistics and successes with weapons taken off the streets, positive interaction with charities and organisations, media hostility towards police, the agendas of political and quasi political organisations, the risk posed to police, the effect of cutbacks, community policing, positivity in police responses-justice for victim's families, lives saved via first aid and metal health intervention and in addition to deaths, the physical damage to victims resulting from knife crime such as evisceration.
I read the review and then went back and forth through the IOPC website looking for the detailed report and methodology. Gradually, aided by police social media users, the penny dropped that the 'review' was based on five stop and search incidents including the 'fist bump' stop now more than two years old, together with some sort of consultation with groups whose antipathy towards police was wholly predictable.
Given the number of stop and searches carried out by the Met, resentment and some conflict is inevitable. Constant criticism and little support inevitably lead to increased difficulties being faced by front line officers in terms of the aforementioned resentment, obstruction and even violence. 
Police officers, when announcing on social media, the seizure of knives, firearms and other weapons, will frequently say, with justification, 'another life saved' yet no-where in that review or indeed in similar reviews and reports is that mantra echoed. Even the College of Policing report into stop and search several years ago concluded that stop and search had, at best, only a marginal impact on violent crime.
The IOPC did little to enhance its status by expressing its sympathy to the family of George Floyd in terms which suggested that UK officers may not be in receipt of fair impartial investigations when racism and/or racial bias allegations are made.
No mention, of course, in their recent review that a disproportionate number of knife and gun crime victims in London are black as are a disproportionate number of suspects. Sad montages of knife and gun crime murder victims clearly show this disproportionality. This is a fact acknowledged not only by the Met but by the Mayor's office and confirmed by the graphic using figures obtained by Sky News.